A unique multimodal approach and optimized ergonomics
DigiPark
Free application designed to support Parkinson's patients and their families.
It offers 3 families of functionalities: Pillbox, Symptom Diary and Activities.
Symptom Diary
The symptom diary records hand tremors and voice stability.
It is also used to record the various symptoms you experience.
Pill box
The pillbox reminds you when to take your medication, thus facilitating compliance.
Activities
The activities allow you to practice your articulation (words) at home, ideally between two sessions with a specialized speech therapist.
As well as the mobility of the hand and fingers with the 'Calligraphy' exercise on Android.
A support tool for patients
The key advantage is to assist patients in their daily life in the follow-up of their drug therapy, but also to accustom the user to manage the symptoms of his disease with physical and speech therapy exercises.
While consultations with neurologists take place once or twice a year, and appointments with paramedical teams are difficult to obtain, Diampark proposes a daily accompaniment, at the patient's home, with a daily report allowing patients to learn to live with the disease while optimizing the follow-up of its evolution.
New DigiPark features for a unique integrated offering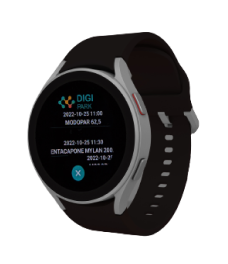 Watch App
for 24-hour patient monitoring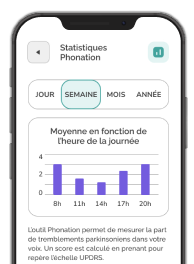 Statistics
for real-time monitoring of symptoms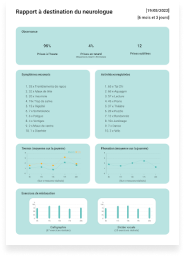 Medical Report
(PDF) to share with caregivers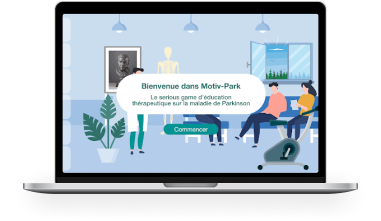 Motiv'Park
a therapeutic education escape game